Where you can find larger 'women-friendly' parking spaces
SEOUL, May 27 (UPI) --As part of a nearly $700 million initiative to make Seoul more attractive to women, the city has introduced larger "women-friendly" parking spaces that are painted with pink and feature a skirt logo. The "Women Friendly Seoul'' project is
hoping to make the city more female-friendly over the next four years by also equipping parking areas with brighter lights and more CCTVs. "As more women engage themselves in social life, their desire to improve the quality of life and demand for public support is increasing,'' Assistant Mayor for Women and Family Affairs Cho Eun-hee told the Korea Times. "It is like adding a female touch to a universal design and make things more comfortable for women." The project will also be adding more female toilets in Seoul and "women-friendly" roads that "will reduce cracks so that high-heels will not get stuck." "The needs of women can vary according to one's age or marital status. We try to meet the needs of each group,'' Eun-hee said.
Bike helmet law 'sexist', forces women to have 'helmet hair': Aussie woman
An Australian woman is fighting back against her country's compulsory bike helmet law, calling it sexist. Sue Abbott of Scone, New South Wales, was fined $153 this week in Adelaide for not wearing her helmet, but it wasn't the first time. She told Adelaide Now she has been fined a dozen of times but she refused to pay and police have even seized her bicycle and sold it to pay her fines. "It is a very sexist law because a lot of women have maintained hairstyles and would end up with helmet hair -- and women have told me that's one of the factors (for not riding bikes)," she told the newspaper.
'F-cup cookies' claim they can make breasts grow
A new brand of Japanese cookie is not exactly being marketed in a subtle way. The makers of "F-cup cookies" claim that women who eat them will see an increase in breast size. The cookies contain Pueraria Mirifica, a plant extract from Thailand, and women are supposed to eat two cookies a day in order to see results. According to the product's website, Pueraria Mirificav is also found in an edible breast enhancer called Bust Up Gum. The cookies come in two flavors -- Soy Milk or Pralines and Chocolate -- and each one of them is 70 calories. "Phytoestrogens are in numerous foods and to date there is no research to show that ingestion changes breast size," nutrition expert Ian Marber told the Daily Mail. "Even concentrated doses haven't been shown to do anything, although eating several biscuits can lead to weight gain with all that goes with it." In case you were wondering, an F cup in Japan is similar to a DD cup in the U.S.
First crack smoking now a Porn star for Toronto mayor
TORONTO - Just what we need, another mayor from Etobicoke .Ever do crack? I ask candidate Nikki Benz. It's an automatic question these days. "No. No. I don't even smoke cigarettes," she tells me, tossing a honey-blond tress. You could swim in those hazel eyes. "When it comes to that kind of stuff," she says, "my life is not very exciting. "Nikki's job is another thing. Unless you've been comatose or away at bible camp, you know Nikki Benz is among the world's top porn stars.She divides her time between shooting Bra Busters 4 and the like in L.A. and her mom's place in Etobicoke, where she grew up not far from Rob Ford's spread.So she is eligible for Toronto politics. In fact, her career makes her highly qualified, since it, too, involves screwing people while huffing and puffing and pretending to smile. "At least I'm honest and transparent. No hidden agenda," says Ms. Benz. Noon Wednesday, she is to sashay down to City Hall and officially launch her campaign for mayor. Already, she has a snappy slogan — Trade in
Your Ford for a Benz — and the beginnings of a platform. She dropped by the Sun to outline some of her positions, politically speaking. Her transit policy is a bit all-over-the-map, but whose isn't? Generally, she favours cheaper modes, so LRT in the suburbs. But she would fast-track the relief line. Frankly, she says "relief line" in a much more compelling way than John Tory. I can tell you Toronto's congestion was not eased by her photo shoot on King St. with our Craig Robertson. For once, no one cursed or flipped the bird. This is overreaching a mayor's powers, but Ms. Benz proposes making National Masturbation Day a civic holiday. I know, I know, I hear you, every day should be National Masturbation Day, but Benz sees it as a way to soothe Toronto's chronic angst. Also, since we're already Hollywood North, Nikki would make us Debbie Does Dallas North. "My industry is one of the biggest in the world," she says. "It could do for Toronto what it's done for L.A. in jobs, business and taxes."
Lingerie World Cup updates
A group of scantily-clad Dutch women accomplished what their men failed to do four years ago in South Africa. Win the World Cup. The Lingerie World Cup, that is.The hosts reigned supreme at a mini, 4-on-4 tournament refereed by former Dutch international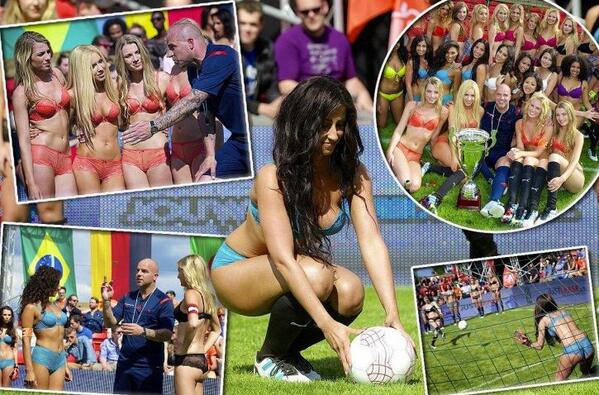 Andy van der Meyde last weekend. The eight-team Lingerie World Cup also included teams from Russia, Algeria, South Korea, Germany, Spain, Italy and 2014 men's world Cup hosts, Brazil.
Believe it or not, details of the competition – including the groups and who the Dutch played in the final – were few and far between, with the Daily Mail the only mainstream media to give the event top billing. According to the report, the Netherlands beat Spain, Germany and Brazil to lift the Cup -- and avenge Spain's victory over the Dutch men in the final at the 2010 World Cup.